Most Anticipated Albums of 2019 – Alternative Genres
With the uncertainty of a new year creeping upon us one you'd be forgiven for carrying a bit of anxiety into the holiday season. Well fear not as we're here to give you a few reasons to look forward to 2019. These are next year's most anticipated albums from the all encompassing alternative genres.
Band: Taking Back Sunday
Album: Twenty
Release date: January 11th
Two decades, at the time of this albums release the pop punk pioneers will have been around for two entire decades. The legendary Long Island rockers will start their 2019 off with the release of their 8th studio album, appropriately titled Twenty. When asked about the upcoming release, vocalist Adam Lazzara described it as the best playlist could band could muster up.
"We kind of live in this world of streaming right now. Everybody listens to playlists, so I think if anything, we've just put together the best Taking Back Sunday playlist we could, all in one neat little package for you so you don't have to go through everything and move stuff around."- Lazzara in an interview with Mixdown Magazine.
If the bands newest single "All Ready To Go" is any indication of what's to come than the veterans look poised to continue their multi-decade dominance over the pop punk scene.
Band: Fever 333
Album: Strength in Numb333rs
Release date: January 18th
The amalgamation of Letlive's Jason Butler, The Chariot's Stephen Harrison and Night Verse's Aric Improta is one of the best things going in the punk scene right now. Inglewood's Fever 333 burst onto the scene earlier this year with the release of their Grammy nominated debut EP Made in America. They look to follow up on this momentum with their debut full length next January. Sticking to Letlive's controversial formula, the album seems as though it will emulate the anti-establishment vibe synonymous with the punk genre. Paired with the release of album teaser "BURN IT", which focused on the issue of police brutality in America, the band's frontman touched on what's to come in an interview with Heavy Consequences
"It's about bringing back that socio-political mindfulness. We're trying to write the soundtrack to the revolution that we know is about to happen."
In addition to the new album Fever 333 is in the midst of the International First Love World tour and look to be set up for a monster 2019.
Band: Bring me the Horizon
Album: Amo
Release date: January 25th
Speaking of the First Love World tour it's headliners, Bring me the Horizon have big things in store for the new year as well. From deathcore to dad rock the band from Sheffield, England have done it all. They have 15 years and 5 studio albums to their credit with a 6th one is in the works and set to drop this January. Band frontman Oliver Sykes spoke to the Go London Newsletter about the creative process behind the new album as well as balancing mainstream success with the bands original goal of creating something unique.
"We've come a long way and it's important that we don't start writing songs with the goal of them being on the radio."
"Your favorite songs by your favorite bands are never the singles. It's when they've done exactly what they wanted without any compromise and not worried about the reaction. This time we did that a lot more."
The announcement of Amo, which by the way means "Love" in Portuguese, was also accompanied by the a single called "Mantra".
Band: Fidlar
Album: Almost Free
Release date: January 25th
For fans of the LA skate punk group, Almost Free is almost here to mark the end of a four year album drought. Announced alongside their latest single "Can't You See", the four piece has clearly spent the last four years mellowing out while simultaneously growing as musicians. This looks like it will result in something unique from the bands original tandem of highly diverse records.
"A lot of the vibe was, 'Well, why can't we do that? Why can't we have horns? Why can't we have key changes? Why can't we have a harmonica loop?" Singer Zac Carpenter asks during the albums press release. "It was about taking the ceiling off. Having it be limitless. Ain't no rules."
Until the album drops however, Guitarist Elvis Keuhn advises fans of the band to get their hands on the latest track.
"Play it loud while driving around Los Angeles and it'll make sense."- Elvis Keuhn
Band: King 810
Album: Suicide King
Release date: January 25th
King 810 is probably the heaviest band you'll see on this list. After a brief hiatus the group is brewing something sinister to unleash on the world this January. Flint, Michigan's violent little secret has been kicking since 2007 and has survived everything from lineup changes to an attempted manslaughter. For anyone questioning the group's hardcore credentials, the band's 2017 hiatus was the result of Vocalist David Gunn focusing on an MMA career, which already boasts two wins.
Speaking of Gunn, the vocalist seems very proud of his newest creation telling Blabbermouth.net "This is what your favorite band's favorite band sounds like."
While the three year long wait for a new album is unfortunately not quite over, there is new content to hold fans over in the form of the albums opening track "Braveheart", released last month.
Band: Buzzcocks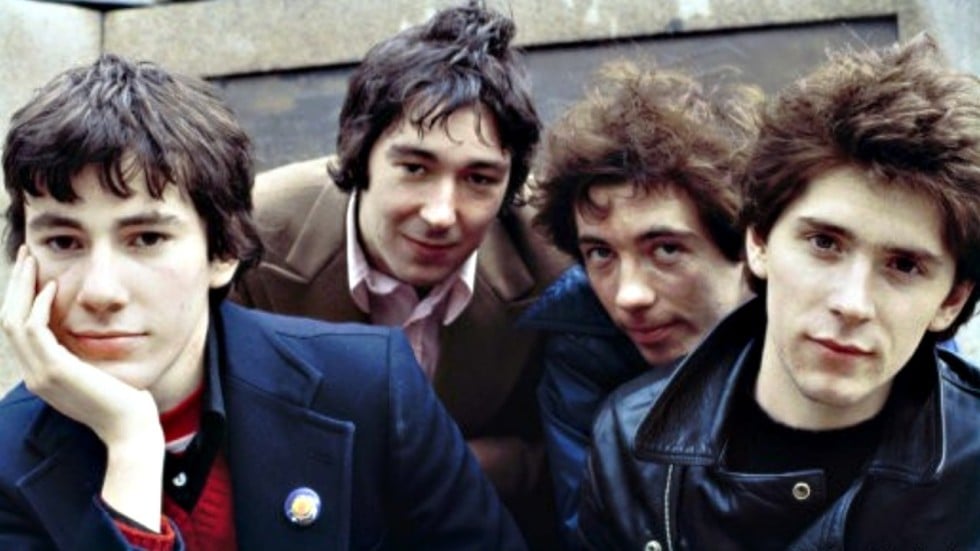 Album: Another Music In A Different Kitchen & Love Bites- Reissues
Date: January 25th
Admittedly cheating a little bit with this one but due to the recent passing of the frontman Pete Shelley as well as the undeniable impact that the punk legends had on the music scene I felt compelled to include this one. Announced via the band's Facebook page
the English icons will boast 40 years together by re-releasing their first two full lengths. At a minimum this is a celebration of almost half a century of punk music and an exciting milestone for the genre's hardcore fans.
Band: Say Anything
Album: Oliver Appropriate
Release date: January 25th
Christmas is coming a month late fans of the eclectic alternative genre, with Say Anything's 8th full length becoming the fifth and final offering on this list set to be released on January 25th. The indie rock band is a real adult now with an 18 year discography spanning 7 albums and another one on the way. Announced towards the end of the summer, Oliver Appropriate recently got the teaser treatment following the unveiling of the albums tenth track entitled "Send You Off".
The announcement was made by Say Anything's sole remaining founder Max Bemis. Bemis also dropped the bombshell that the band would be taking a hiatus for an undetermined amount of time following the new record's release. The frontman cited a number of factors in his decision to take a break including substance abuse, other projects, and the birth of his son.
"My prediction is that I'm going to live a happy life until my universal, all-loving, all-inclusive spirit chooses to take me home," Max told music news outlet Loudwire "Say Anything will probably make music again, and I'm not claiming this is our actual last record, but it may be. Who knows. That's up to me and my family."
Band: La Dispute
Album: Panorama
Release date: March 22
A decade ago La Dispute released their first full length. They spent the next few years following this up with a steady stream of releases before dropping right off the face of the earth. It's been five long years since fans of the experimental group dropped their latest full length Rooms of the House. Earlier this month however the Grand Rapids natives shocked fans by announcing their fourth full length as well as releasing it's first and second songs. The teasers boasted the beautifully chaotic instrumentals and poetry that have become staples of the band's discography.
In an interview with NPR, frontman Jordan Dreyer described the duel releases
""Rose Quartz" is a bright white light, then the low hum of tires on a country highway; "Fulton Street I" is two heads in the car turning quietly at passing landmarks, plywood monuments with plastic flowers and the stories that populate the stretch of road between two places. Together, they're the first two tracks on a record born from long drives like that, between a new and an old home, that takes a wide-angled shot of a city and just outside of it. How events there linger on in the memory of all those involved, carrying the characters off in thoughts of grief and healing to other planes and other histories."
This quote led has to speculation that Panorama will follow in the footsteps of the bands last record as another concept album. Listen below and decide for yourself.
Band: Whitechapel
Album: The Valley
Release date: March 29th
Remember when I said King 810 was arguably the heaviest band on this list? Well if there's any group that are going to give them a run for their money it's deathcore transcending titans Whitechapel. The 12 year veterans have begun working on their 7th studio album set to be released in March. The Valley is a reference to Harden Valley where the band's vocalist, Phil Bozeman, grew up. It appears that this will play a large role in the content of this record as evidenced by an interview with Guitarist Alex Wade.
"Phil has been upfront in his lyrics in the past about hardships he endured in his life as a child, and I believe with this record we tried to paint a better picture of that," Wade told Metal Blade Records "I feel our music is Phil's release from his past, being able to get it out and speak about it, and hopefully anyone who hears it that may have gone through similar experiences can find some release in it as well."
The album's announcement came with an absolutely face melting single "Brimstone" which is hopefully indicative of the brutality of the entire album.
Band: Slipknot
Album: TBA
Release date: TBA
The nine piece from Iowa's sixth full length is shrouded in secrecy with no indication of a title or date. What we do know however is that something is in the works, and it's coming next year. Vocalist Corey Taylor described the upcoming album as "Our heaviest album yet".
Not content with just talking the talk however, the nine piece talked the talk with the release of "All Out Life". Released on Halloween because of course it was, the group of 40 something year old's offering is jaw droppingly intense.
"Old does not mean dead, new does not mean best. No hard feelings, I'm tired of being right about everything I said".
The chorus of this song perfectly embodies the nu-metal pioneer's outright defiance and refusal to be swept under the rug to make room the next generation. If this track is anything to go off of, fans of the 23 year veterans are in for something special in the coming year.
If you obsess over singers and bands, and are one of those people who make a playlist for every occasion, join CMN's Music Journalism Course and get real-time experience, intense feedback on your writing, exposure to music industry insiders, and a great place to display build your portfolio. Get all the details on the Music Journalism Course here.