Bangladeshi Rappers Wield Rhymes as a Weapon, With Tupac as Their Guide
A new kind of musical activism has emerged in Bangladesh.
Mubashar Hasan, University of Oslo
Bangladesh, which became independent from Pakistan in 1971, is a young country. Only 7% of the 160 million people in this South Asian country – which is home to more Muslims than Iran, Afghanistan and Saudi Arabia combined – are over the age of 60, according to a 2016 United Nations Development Program report.
It is young, but not hopeful. Youth unemployment is high in Bangladesh, especially among those with only a primary school education. According to a recent survey, 82 percent of young people are not optimistic about getting a job.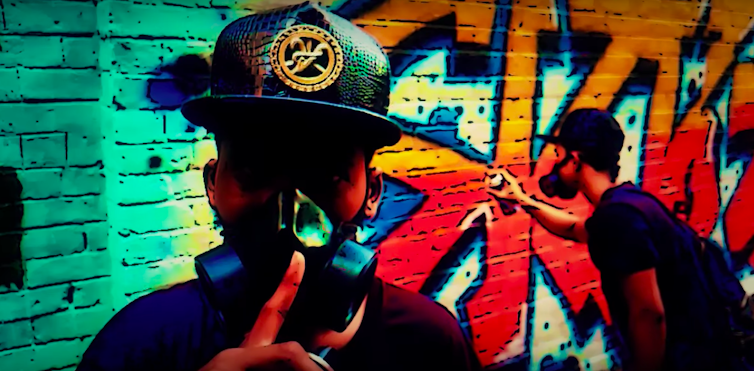 One consequence of this youthful unrest is religious radicalization. Once lauded for its secularism, Bangladesh is now seeing young people increasingly adopt more conservative Islamic values. Though many conservative Muslims denounce violence in the name of Islam, religiously motivated crimes are on the rise. Since 2013, at least 30 secular bloggers, authors, intellectuals and publishers have been murdered.
But there is another story about youthful anger in this Muslim nation, too. And it contradicts that all-too-familiar narrative about radicalization. It's the story of hip-hop.
Tupac, Eminem and young rage
Over the past 15 years or so, a new kind of musical activism has emerged in Bangladesh, one inspired by American rappers like Tupac Shakur, Eminem, NWA and Public Enemy.
The old school hip-hop icon Tupac Shakur – who was murdered in Los Angeles in 1996 – holds particular significance for Bangladeshi MCs. Like Shakur, who spoke of police brutality and racism in the U.S., Bangladesh's young rappers want to use their music to criticize their country's political dysfunction, democratic erosion and gaping inequality.
Hip-hop was born as protest music in the United States. The genre emerged in the late 1970s, as black Americans raised their voices against the poverty, police brutality and violence taking place in black communities.
Songs like "Fight the Power" by Public Enemy and NWA's "F*!k tha Police" underpinned the black struggle for black freedom and freedom of speech in America. This trend continues today, with hip-hop fueling the social movement Black Lives Matter.
Breaking the culture of silence
Over the past 12 months, I have listened to about 50 tracks by some two dozen Bangladeshi hip-hop artists. With this project, which grew out of my research on political Islam in Bangladesh, I hope to understand how this emerging underground genre reflects the youthful unrest that drives violence and radicalization in the country.
Though many Bangladeshi rappers rhyme about love, money and romance, there are several recurring political themes. One is the culture of silence around inequality.
"Everyone is silent … nobody is talking," observes rapper Skib Khan in "Shob Chup." The elite need inequality, he says, because "otherwise how will the rich get servants to serve their families?"
In Bangladesh, more than 60 million people – nearly a third of the population – live below the poverty line of US$1.90 per day. Twenty percent of Bangladeshis hold 41 percent of all wealth in the country.
Inequality is visible everyday in the slums of the capital Dhaka, arguably the world's most crowded city. But it is ignored in the nation's political debate.
"Shob Chup," which translates to "everyone is silent," frames the country's inequality and disenfranchisement as a betrayal of the inclusive, secular and democratic ideals behind Bangladesh's 1971 revolution.
Rapping for freedom of speech
Bangladeshi hip-hop, which is celebrated with an annual festival in Dhaka, is also a defense of free speech in a country where that right is rapidly eroding.
In 2013, the government amended the Information and Communication Technology Act to mandate a jail sentence of seven up to 14 years for online speech deemed "offensive" by the courts. Since then, 1,271 Bangladeshi journalists and activists have been charged with cyber defamation, according to the international nongovernmental organization Human Rights Watch.
A proposed new digital security law would impose even stricter regulation of speech.
In his track "Bidrohi," or "rebel," rapperTowfique Ahmed sees these crackdowns as a violation of Bangladesh's founding ideals.
"I haven't seen the war but I heard of it. I don't know how to do revolution but my blood is on fire," he raps. "Don't take me as someone who is stupid because of my silence."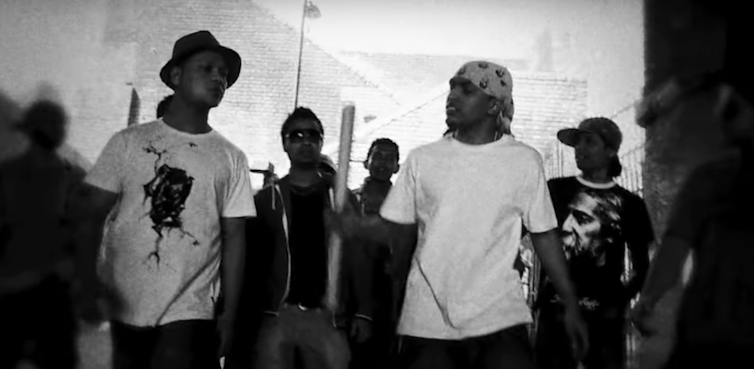 Another group Cypher Project raps about the high-profile 2014 murder case in which security forces abducted and killed seven people in the Bangladeshi city of Narayanganj.
Dysfunctional politics
Bangladesh's politics is bloody. By virtually any measure – political equality, freedom of speech, human rights, religious tolerance, press freedom – this is a country struggling with the most basic tenets of democracy.
Rappers' criticism of Bangladeshi politics can be fierce.
One group, Uptown Lokolz has declared elections, which are held every five years, pointless. The "country's situation changes in every five years," they rap. Yet "whoever comes in the power … everything is lost under the curtains of self-interest."
Rappers also indict self-serving politicians for the rise in religious violence in Bangladesh. In "White Democracy," the rapper Matheon wonders "for how long religion would be subject of big politics … maybe I am a Christian but I understand your corruption."
Research confirms that mainstream parties in Bangladesh have embraced religious zealotry for political gain, giving Islamic extremists more power. Religious radicalization is not a marginal phenomenon in Bangladesh: Studies have found that many who support terrorism in the name of religion come from a middle-class background.
The U.S.-based Bangladeshi rapper Lal Miah condemns politicians who foment religious zealotry as "frauds who are betraying the secular spirit of 1971."
Towfique Ahmed has perhaps the most pointed critique. Bangladeshi politicians corrupting society for their own benefit, he says, are waging "false Jihad."
Speaking truth to power in a time and place where that habit is strongly discouraged sends a powerful political message. Hip-hop in Bangladesh, as in the U.S., becomes protest music simply by unflinchingly portraying the harsh reality that too many young people live everyday.
Mubashar Hasan, Postdoctoral fellow, Department of Culture Studies and Oriental Languages, University of Oslo. This article was originally published on The Conversation. Read the original article.
If you obsess over singers and bands, and are one of those people who make a playlist for every occasion, join CMN's Music Journalism Course and get real-time experience, intense feedback on your writing, exposure to music industry insiders, and a great place to display build your portfolio. Get all the details on the Music Journalism Course here.